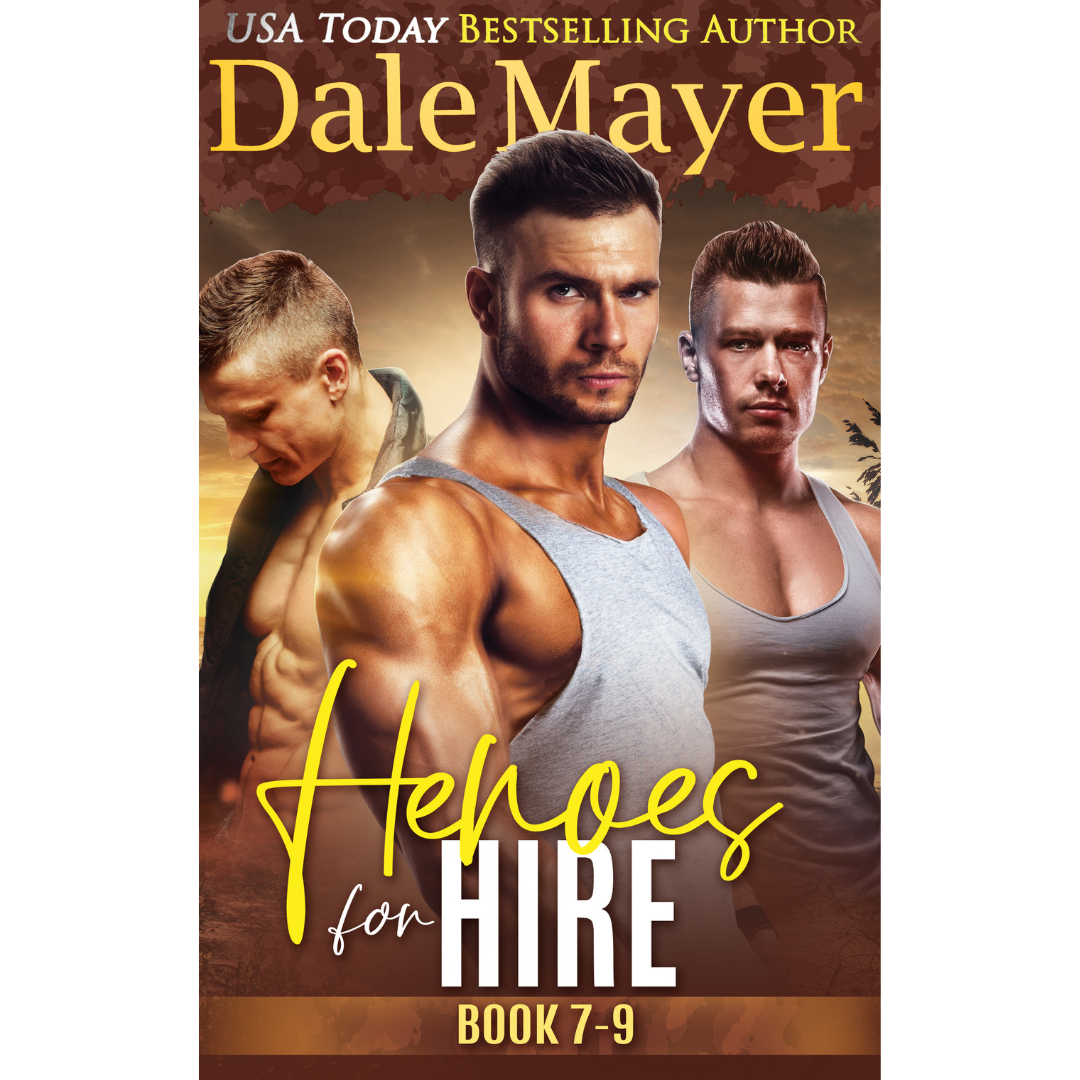 Heroes for Hire: Book Bundles 7-9
---
In stock, ready to ship

Inventory on the way
🏷️ Purchase the E-Book/Audiobook
✅ Receive a Download Link From
❤️ Send to any Device and Enjoy!
This bundle contains Harrison's Heart, Saul's Sweetheart and Dakota's Delight, books 7, 8 and 9 of the Heroes for Hire series. 

Book 7: Harrison's Heart
When a call for help comes from Ice's father, Harrison steps up. A senator has been shot, his wife beaten and his kids are in the wind. It's up to Harrison to find the answers everyone is looking for.

Including finding the senator's ex-military and pissed at the world daughter. Only she doesn't want anything to do with him.

Zoe is on a mission. There's no room in her world for heroes – especially not Harrison. But he won't take no for an answer. Only Zoe has angered the wrong people, and they won't stop until they put an end to her meddling or better yet – to her.

With so much going on, Harrison struggles to pull the pieces together – before their world is completely blown apart – permanently.

Book 8: Saul's Sweetheart
Helping a friend in need is never a wrong move. And Saul knows the value of his friends. When he's called to find Benji's missing brother, Daniel – he's on it.

Only Daniel might be involved in something a lot darker than avoiding his brother's phone calls. At least according to Rebel who's been haunting Daniel's apartment, looking for her missing girlfriend.

When the bodies start showing up, Rebel is terrified her friend will be next…

And that's not something she's going to sit by and allow. No matter if Saul thinks she should. He needs to get out of her way or she'll run right over him. The trouble is, it doesn't take long for her to realize he'd like that – and so would she.

Now if only they could save their friends…before the entire mess blows up and takes them all out.

Book 9: Dakota's Delight
When a young woman darts into traffic and into Dakota's path, life takes a dark turn for both of them.

Bailey, recovering from the loss of her husband, retreated from life. Going to work and coming home was the extent of her days and weeks. Until she walks into work early one morning, witnesses a murder and flees into traffic, nearly getting killed.

The near death experience awakens the spark of life inside of her. So does the man in the car. A different kind of a spark.

For her safety, Dakota persuades her to move into the compound with him and the rest of the Legendary family while they track down the killers.

Bailey is forced to accept Dakota's help. But can she stay safe long enough for the police to track down the killer? Or is the man who almost ran her over going to steal her heart?

Our ebooks and audio books are delivered to the email you buy them with, through Bookfunnel. Once you purchase the ebook or audiobook it will be sent to your email within the next hour.
You can send the ebook to your preferred reading device or app, or use the bookfunnel app. You can listen to the purchased audiobook on the bookfunnel app as well.
Our books are sent to be processed and printed within 72 hours of purchase, from there they will be shipped to you in 10-15 days depending on your location. You will get an email when the book has been shipped. it will not have a tracking number unless you pay for tracking.
We are working to get our shipping times down but currently we are a small company, and our products can take a bit longer to ship.
Thank you for your patience.
AI audio books are books turned into Audio by using conversational digital narration created by AI. We specifically use Google play book's AI technology for our AI narrated books.
They sound quiet similar to human voices.
Most of Dale's books will have both a traditionally narrated audio book done by a person, and a AI narrated audiobook done by a computer.
---