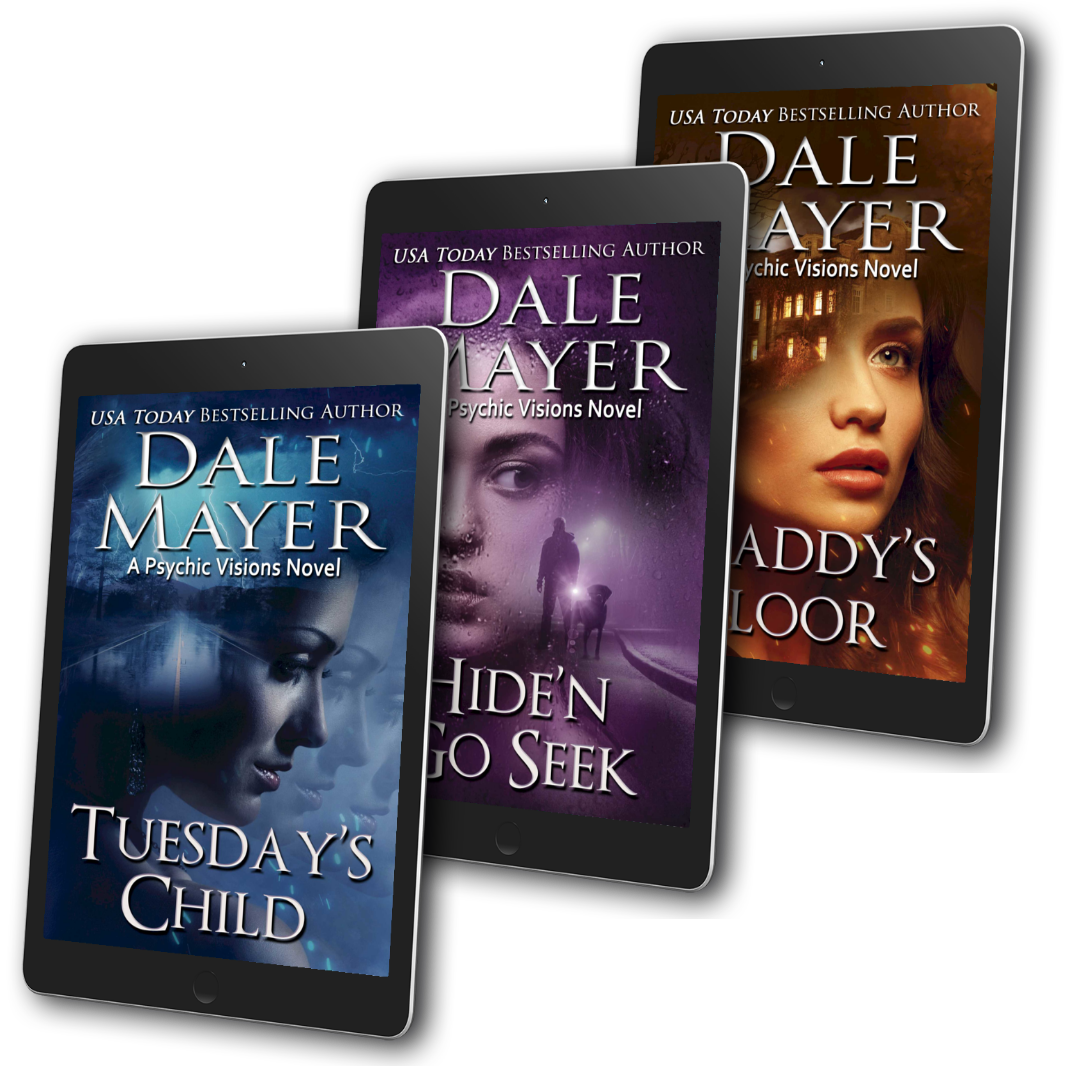 Psychic Visions Book Bundles 1–3
---
In stock, ready to ship

Inventory on the way
🏷️ Purchase the E-Book/Audiobook
✅ Receive a Download Link From
❤️ Send to any Device and Enjoy!
Stefan Kronos is an artist with psychic gifts who acts as a law enforcement consultant. He heads a community of psychics, seeking out others like him in order to assist these misunderstood souls toward a better understanding of their unique talents, learning to deal with the fundamental complications and consequences of having them, and in further developing them.

Book 1: Tuesday's Child
Samantha has learned to hide her psychic abilities. But, after she inadvertently taps into one killer's prey, she finds herself taking unwilling possession of another woman's body in order to experience her brutal murder.

Detective Brandt Sutherland only trusts hard evidence yet even he can't deny that Sam's visions offer him the clues he could use to catch this killer. But how can Brandt save her from something he can neither see nor understand?

Book 2: Hide 'n Go Seek
Celebrated search-and-rescue worker Kali Jordon hides her psychic abilities by crediting her canine partner, Shiloh, with the miraculous recoveries made over the course of her career. The Sight Kali inherited from her grandmother allows her to unerringly track dark waves of energy back to victims of violence. She's managed to keep her secret safe…until a maniacal killer challenges her to a game of extreme Hide-and-Seek that threatens the lives of those closest to her.

Book 3: Maddy's Floor
Maddy's medical facility, Maddy's Floor, has helped countless terminally-ill patients to miraculously live. When the patients of psychic medical intuitive and licensed physician Maddy begin dying from mysterious causes, she realizes this may be outside her ability to cure. Something malevolent has taken up residence. Not sure how else to deal with the disturbing possibility, she calls on her psychic mentor, Stefan. Together, they delve beyond the physical plane into the metaphysical...and find utter terror.

Our ebooks and audio books are delivered to the email you buy them with, through Bookfunnel. Once you purchase the ebook or audiobook it will be sent to your email within the next hour.
You can send the ebook to your preferred reading device or app, or use the bookfunnel app. You can listen to the purchased audiobook on the bookfunnel app as well.
Our books are sent to be processed and printed within 72 hours of purchase, from there they will be shipped to you in 10-15 days depending on your location. You will get an email when the book has been shipped. it will not have a tracking number unless you pay for tracking.
We are working to get our shipping times down but currently we are a small company, and our products can take a bit longer to ship.
Thank you for your patience.
AI audio books are books turned into Audio by using conversational digital narration created by AI. We specifically use Google play book's AI technology for our AI narrated books.
They sound quiet similar to human voices.
Most of Dale's books will have both a traditionally narrated audio book done by a person, and a AI narrated audiobook done by a computer.
---