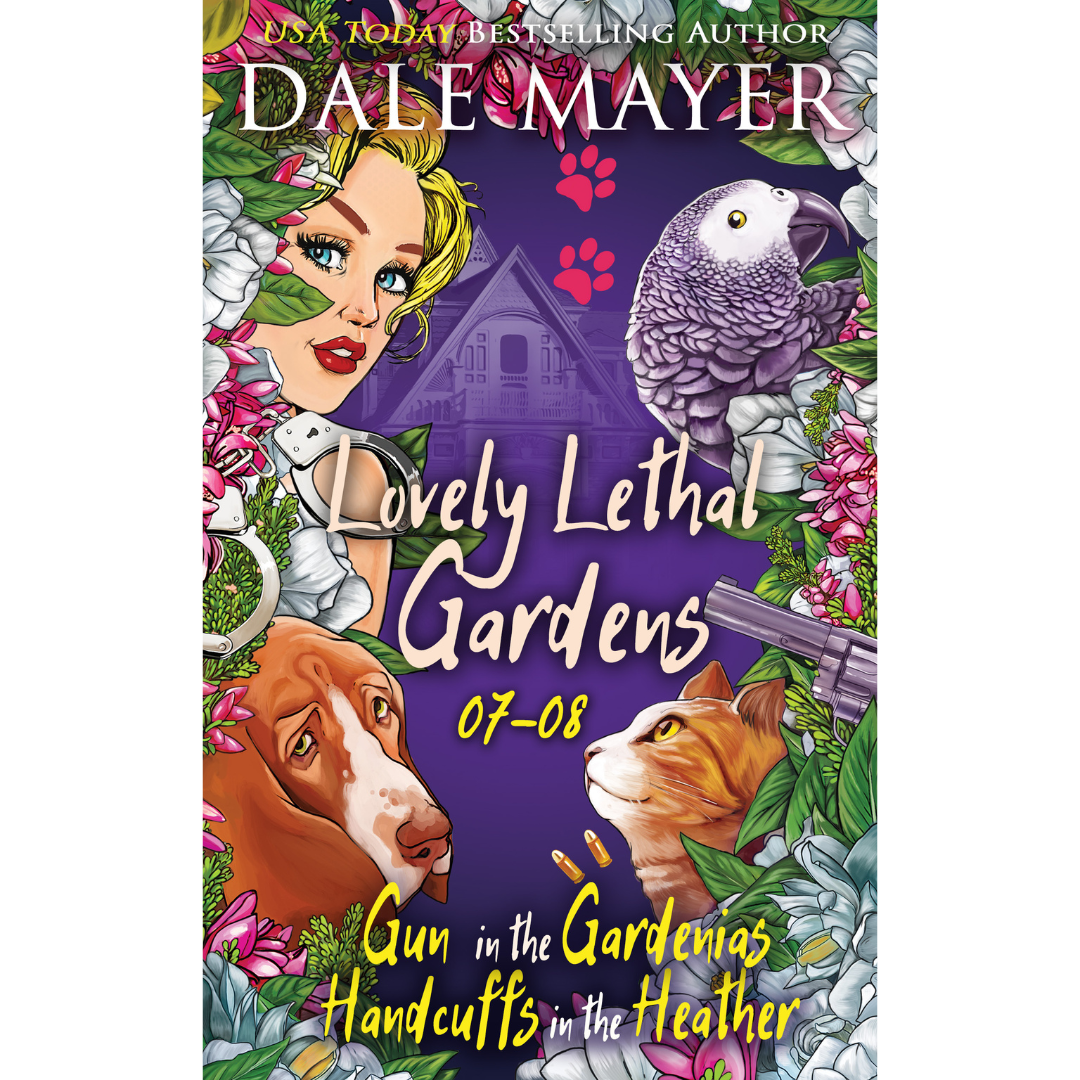 Lovely Lethal Gardens: Book Bundles 7-8
---
🏷️ Purchase the E-Book/Audiobook
✅ Receive a Download Link From
❤️ Send to any Device and Enjoy!
This bundle contains Gun in the Gardenias
and Handcuffs in the Heather
, books 7 and 8 of the Lovely Lethal Gardens series.


Book 7: Gun in the Gardenias
Riches to rags. ... Chaos to more chaos. ... Fire destroys evidence. ... Or at least most of it! 
Flush with success from solving a decade-old kidnapping case, Doreen can't wait to find out what's next in her one-woman crusade to clean up Kelowna's cold crimes. But, before she can unearth another old case to sink her teeth into, she must tie up some loose ends from the last one.

Steve Albright, fixer for the local biker gang, has made it clear that he blames Doreen for sending his friend Penny Jordan to prison. Steve even suggests that Doreen might have set up Penny Jordan. While Doreen wouldn't do that, she's afraid that other people might believe Steve. He's a popular figure in town and has a lot of friends, many of whom Doreen doesn't want to get any closer to than she must.

At least Steve doesn't have his gun anymore, having dropped that in Doreen's neighbor's gardenia bed while she chased him from her yard. Which makes Doreen think that maybe it's safe to dig into Steve's past. Until she uncovers a connection to three arson cases from years ago and is warned off by Corporal Mack Moreau.

But Doreen's never listened to Mack before, and it has all worked out thus far, so it's not like she has to listen to him now. Right?

Book 8: Handcuffs in the Heather
Riches to rags. ... Everything is under control, ... until it isn't. And Doreen's in the middle of it!
The four boxes of files Doreen inherited from journalist Bridgeman Solomon have already helped her solve one crime, and Doreen hopes they'll continue to assist her as she sticks her nose into future cases. But, when she stumbles over a pair of pink satin handcuffs in her standoffish neighbor Richard de Genaro's heather patch, it's hard to believe that those reporter's files could have anything useful to offer regarding that.

Doreen takes a look though, and soon she's headed down a merry trail of prostitution, embezzlement, and, of course, murder. But the minute the files suggest a connection to Doreen's specialty, a cold case, her beau and partner in crime, Corporal Mack Moreau, starts breathing down her neck.

With her trusty animals leading the way, Doreen sets out to find the connection between the reputable banker who died in an unsolved hit-and-run and the prostitute who owned the pink satin handcuffs. As Doreen puts it all together, even she is surprised at the outcome of her latest investigation.
Our ebooks and audio books are delivered to the email you buy them with, through Bookfunnel. Once you purchase the ebook or audiobook it will be sent to your email within the next hour.
You can send the ebook to your preferred reading device or app, or use the bookfunnel app. You can listen to the purchased audiobook on the bookfunnel app as well.
Our books are sent to be processed and printed within 72 hours of purchase, from there they will be shipped to you in 10-15 days depending on your location. You will get an email when the book has been shipped. it will not have a tracking number unless you pay for tracking.
We are working to get our shipping times down but currently we are a small company, and our products can take a bit longer to ship.
Thank you for your patience.
AI audio books are books turned into Audio by using conversational digital narration created by AI. We specifically use Google play book's AI technology for our AI narrated books.
They sound quiet similar to human voices.
Most of Dale's books will have both a traditionally narrated audio book done by a person, and a AI narrated audiobook done by a computer.
---