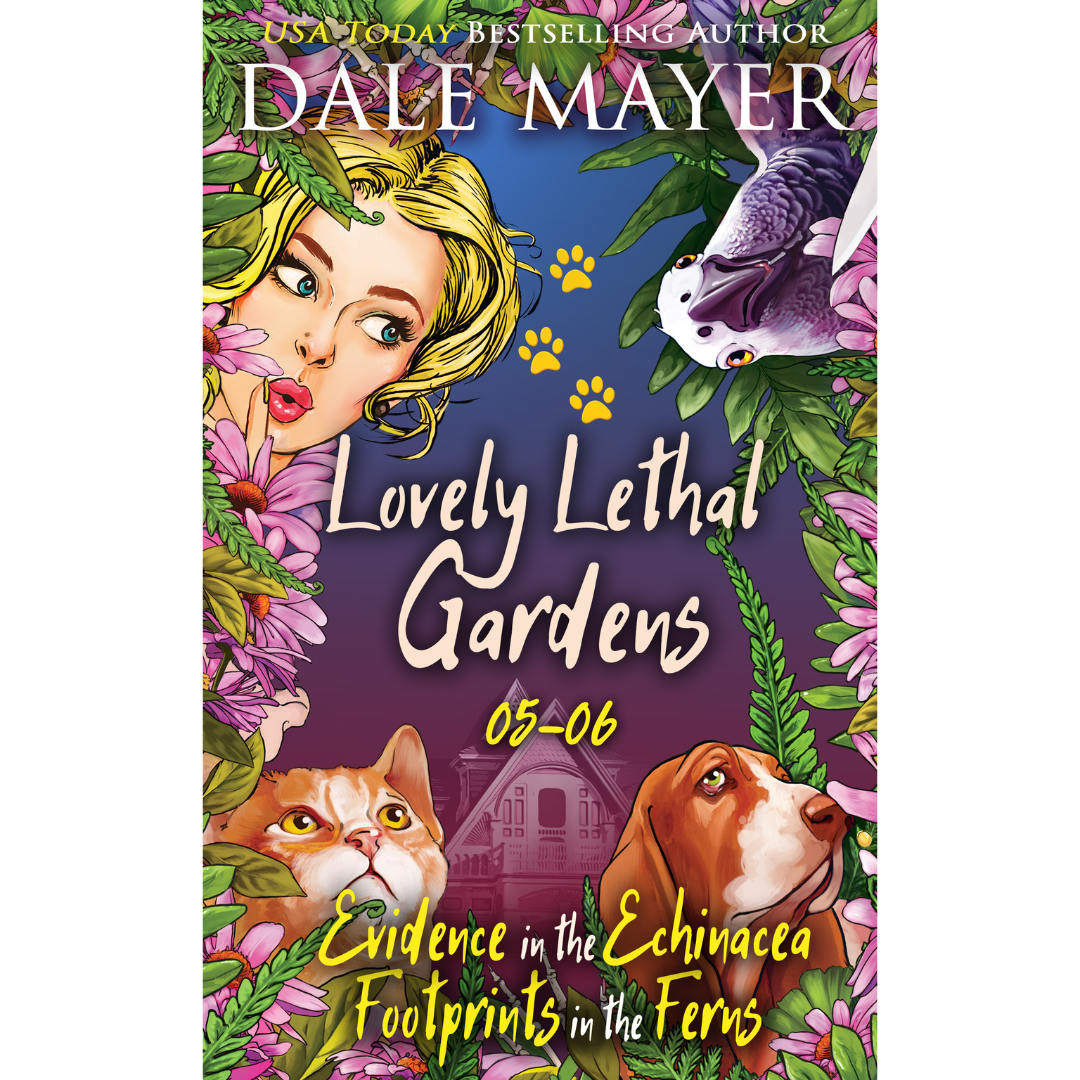 Lovely Lethal Gardens: Book Bundles 5-6
---
🏷️ Purchase the E-Book/Audiobook
✅ Receive a Download Link From
❤️ Send to any Device and Enjoy!
This bundle contains Evidence in the Echinacea and Footprints in the Ferns, books 5 and 6 of the Lovely Lethal Gardens series.

Book 5: Evidence in the Echinacea
Riches to rags. ... Controlling to chaos. ... But murder ... well maybe …
Doreen's success at solving murders has hit the newswires across the country, but all Doreen wants is to be left alone. She has antiques to get to the auction house and a relationship with Corporal Mack Moreau to work out, not to mention a new friendship to nurture with Penny, Doreen's first friend in Kelowna, and Doreen doesn't want to ruin things.

But when a surprise accusation won't leave Doreen alone—about Penny's late husband George's death and made by one of the men Doreen helped put away—she thinks that maybe it can't hurt to just take a quick look into her new friend's past.

Before Doreen knows it, she's juggling a cold case, a closed case, and a possible mercy killing … along with cultivating her relationships with Penny, Mack, and Doreen's pets: Mugs, the basset hound; Goliath, the Maine coon cat, and Thaddeus, the far-too-talkative African gray parrot. And while Mack should be used to Doreen's antics by now, when she dives into yet another of his cases it's becoming increasingly hard to take ...

Book 6: Footprints in the Ferns
Riches to rags. ... Controlling to chaos. ... But murder ... not this time! 
One night 10 years ago, 8-year-old Crystal, vanished from her bed in her parents' house, the only clue a footprint in the flowerbed below the girl's window. 

Now that footprint's reappeared, this time at the scene of another crime, and Doreen is under strict orders not to stick her nose into Corporal Mack Moreau's new investigation. 

But while Mack is busy with the new case, Doreen figures it can't hurt if she just takes a quick look at the old one. Her house is empty, her antiques removed, and she has time on her hands. She's finished working on Penny's garden and needs a new project to keep her busy – and allow her to avoid the heavy work waiting in her own garden. And with the help of her assistants, Thaddeus the parrot, Goliath the Maine Coon, and Mugs the Basset, soon Doreen is busy navigating the world of pawn shops and blackmail as she looks for clues as to what happened to the girl stolen from her bedroom so many years ago. 

Surely, it's not her fault when her case butts up against the new one – is it?
Our ebooks and audio books are delivered to the email you buy them with, through Bookfunnel. Once you purchase the ebook or audiobook it will be sent to your email within the next hour.
You can send the ebook to your preferred reading device or app, or use the bookfunnel app. You can listen to the purchased audiobook on the bookfunnel app as well.
Our books are sent to be processed and printed within 72 hours of purchase, from there they will be shipped to you in 10-15 days depending on your location. You will get an email when the book has been shipped. it will not have a tracking number unless you pay for tracking.
We are working to get our shipping times down but currently we are a small company, and our products can take a bit longer to ship.
Thank you for your patience.
AI audio books are books turned into Audio by using conversational digital narration created by AI. We specifically use Google play book's AI technology for our AI narrated books.
They sound quiet similar to human voices.
Most of Dale's books will have both a traditionally narrated audio book done by a person, and a AI narrated audiobook done by a computer.
---