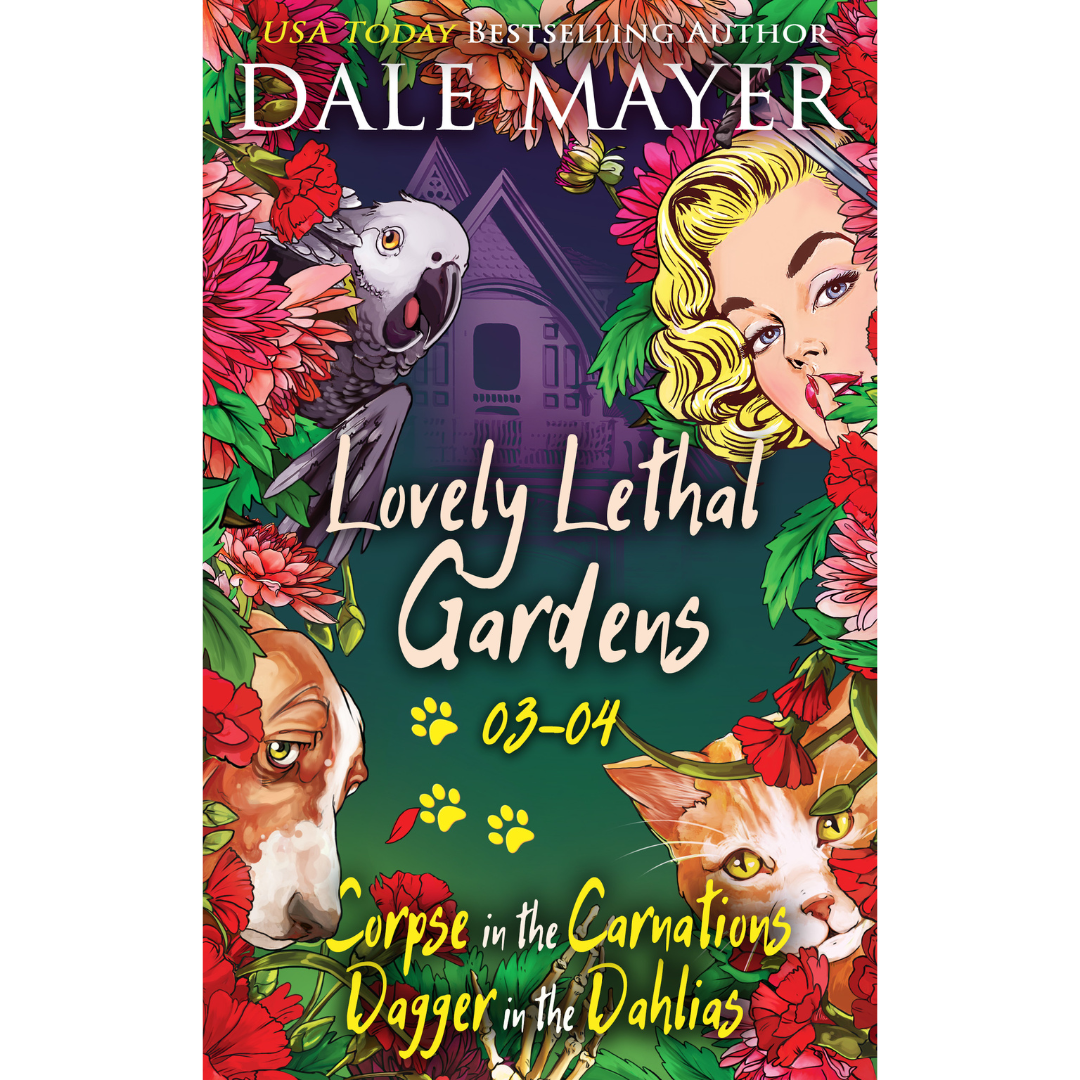 Lovely Lethal Gardens: Book Bundles 3-4
---
🏷️ Purchase the E-Book/Audiobook
✅ Receive a Download Link From
❤️ Send to any Device and Enjoy!
This bundle contains Corpse in the Carnations and Dagger in the Dahlias, books 3 and 4 of the Lovely Lethal Gardens series.

Book 3: Corpse in the Carnations
Riches to rags. … Chaos calms. … Crime quiets. … But does it really?
After getting involved in two murder cases in the short time she's lived in picturesque Kelowna, divorcee and gardener Doreen Montgomery has developed a reputation almost as notorious as her Nan's. The only way to stop people from speculating, is to live a life of unrelieved boredom until the media and the neighbors forget about her. And Doreen aims to do just that with a tour of Kelowna's famed Carnation Gardens. Plants, more plants, and nothing whatsoever that anyone could object to.
But when she sees a fight between a beautiful young woman and her boyfriend, she can't help but be concerned. Concerned enough that she follows the couple out of the parking lot and through town. And when gunshots interrupt the placid afternoon, it's too late to worry about how her nemesis, Corporal Mack Moreau, will feel about her getting involved in yet another of his cases.
With bodies turning up in the carnations, and a connection to a cold case of a missing child from long ago, Doreen has her hands full, not least with trying to keep her involvement in the investigations a secret from her Nan, Mack Moreau, and especially the media. But someone's keeping up with Doreen's doings… and that someone can't afford for her to find the answers to the questions she's asking.

Book 4: Dagger in the Dahlias
Riches to rags. … Chaos quiets. … Crime is circling. … And cold cases never cease
After almost a month in picturesque Kelowna, Doreen Montgomery still can't keep her notoriety to a minimum or her nose out of other people's business. Now those suffering from the loss of a loved one seek her out, wanting her help. While the last thing Doreen wants is to have the media discover she's involved in another cold case, she is already hooked on the details …
But even more is going on. News has gotten out that Nan's old house is brimming over with valuable antiques, antiques Nan collected and left for Doreen, and the seedier elements of their lovely town are circling like vultures. With her animals in full assistant mode, Doreen must investigate the cold case, right the wrongs of the past, and keep her home safe, all while evading the media—and Corporal Mack Moreau.
Our ebooks and audio books are delivered to the email you buy them with, through Bookfunnel. Once you purchase the ebook or audiobook it will be sent to your email within the next hour.
You can send the ebook to your preferred reading device or app, or use the bookfunnel app. You can listen to the purchased audiobook on the bookfunnel app as well.
Our books are sent to be processed and printed within 72 hours of purchase, from there they will be shipped to you in 10-15 days depending on your location. You will get an email when the book has been shipped. it will not have a tracking number unless you pay for tracking.
We are working to get our shipping times down but currently we are a small company, and our products can take a bit longer to ship.
Thank you for your patience.
AI audio books are books turned into Audio by using conversational digital narration created by AI. We specifically use Google play book's AI technology for our AI narrated books.
They sound quiet similar to human voices.
Most of Dale's books will have both a traditionally narrated audio book done by a person, and a AI narrated audiobook done by a computer.
---