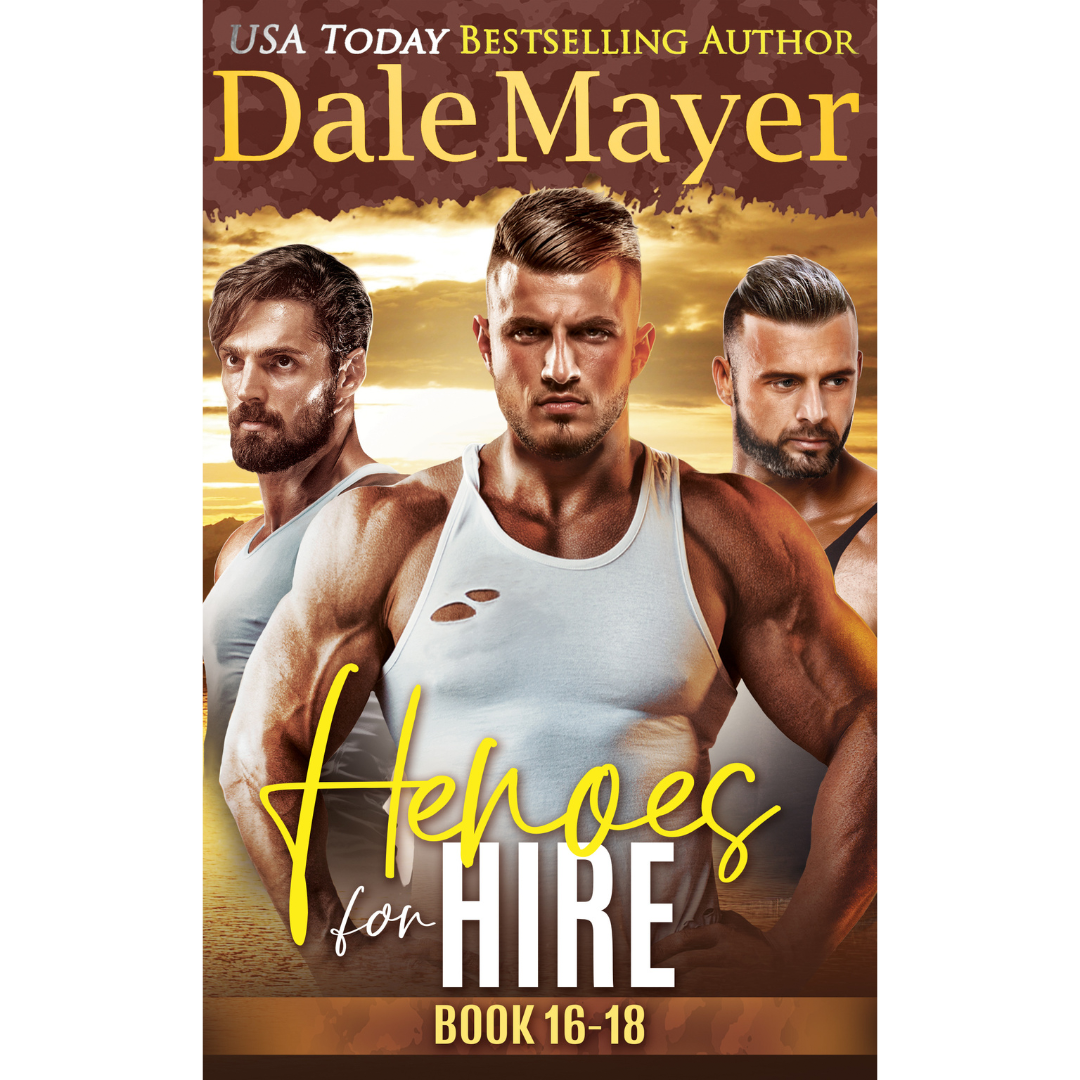 Heroes for Hire: Book Bundles 16-18
---
🏷️ Purchase the E-Book/Audiobook
✅ Receive a Download Link From
❤️ Send to any Device and Enjoy!
This bundle contains North's Nikki, Anders's Angel and Reyes's Raina, books 16, 17 and 18 of the Heroes for Hire series.
Book 16: North's Nikki
In what circumstance wouldn't a knight want to rescue a damsel in distress? A former SEAL working for Legendary Securities, North Dockter has found the very circumstance that challenges even his stalwart, chivalrous ways. Nikki Beckwith is a firecracker who butts heads with him at every turn, refusing to follow orders or listen to his experience unless doing so suits her.
When she discovers someone is smuggling drugs through her company's warehouse and her life is threatened, Nikki flees to her aging grandfather's home in England to lay low and regroup. He's always been there for her, and, if ever she needed a bolthole to make changes in her life, it's now. Maybe it's time to return to the States…particularly after meeting North and realizing the attraction between them is more than she believed possible.
But Nikki soon realizes that no place is safe after her grandfather is attacked in his home. Even with her gorgeous guardian angel hovering close by, will she be too late to make all the changes she's envisioned?
Book 16: Anders's Angel
Anders Renau is sent to Switzerland by his employer, Legendary Securities, to retrieve a glaciologist. Her father faces a political nightmare that's made him worried enough to hire a former Navy SEAL to make sure his daughter isn't used as leverage against him.
An expert in an otherwise male-dominated field, Angela Ainsworth has spent her life studying snow and ice in order to cope with the never-ending heartaches associated with her parents' divorce and her own fiancé's betrayal. When Anders comes barreling into her life, ordering her to return home on her father's orders, she's far from impressed…and she has absolutely no intention of obeying.
Anders loves Switzerland but, given the circumstances, he'd rather be anywhere else besides here, where this stubborn beauty wants nothing to do with him or her father's political agenda she'd tried to escape long ago. Despite her attitude, and regardless of the instant attraction that flares between them, Anders has to keep Angela safe in a world more hostile than any he's ever encountered before.
Book 17: Reyes's Raina
He once picked the wrong woman… he won't make that mistake again.
Reyes Drere came from a long line of gardeners. He'd known since he was little which way his life was going to go and it had nothing to do with planting seasons. When he joined Legendary Securities after eight years as a Navy SEAL he'd been avoiding going home and joining the family business.
The family business included an ex-fiancé he had no wish to see again. Her sister was a good friend but there was nothing more dead than a dead love – unless it was a dead ex-fiancé…
Raina is reeling from the shock of seeing the only man she's ever loved showing up at work one day, his new boss in tow. Ice is all about plants on a grand scale, whereas Reyes appears to be all about denial.
Only the shocks continue as her twin and Reyes ex-fiancé show up dead… and he's the one with a motive…
Our ebooks and audio books are delivered to the email you buy them with, through Bookfunnel. Once you purchase the ebook or audiobook it will be sent to your email within the next hour.
You can send the ebook to your preferred reading device or app, or use the bookfunnel app. You can listen to the purchased audiobook on the bookfunnel app as well.
Our books are sent to be processed and printed within 72 hours of purchase, from there they will be shipped to you in 10-15 days depending on your location. You will get an email when the book has been shipped. it will not have a tracking number unless you pay for tracking.
We are working to get our shipping times down but currently we are a small company, and our products can take a bit longer to ship.
Thank you for your patience.
AI audio books are books turned into Audio by using conversational digital narration created by AI. We specifically use Google play book's AI technology for our AI narrated books.
They sound quiet similar to human voices.
Most of Dale's books will have both a traditionally narrated audio book done by a person, and a AI narrated audiobook done by a computer.
---