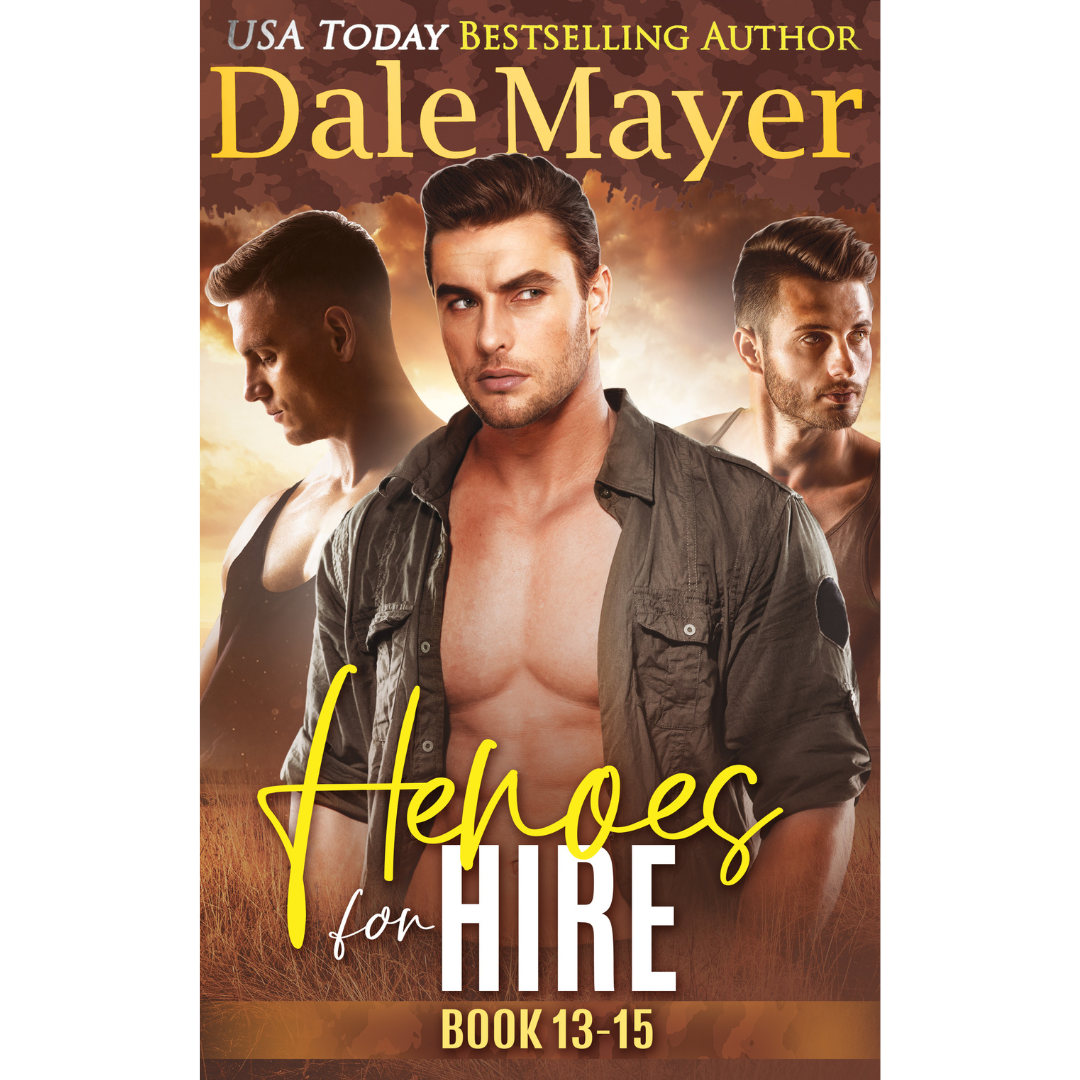 Heroes for Hire: Book Bundles 13-15
---
In stock, ready to ship

Inventory on the way
🏷️ Purchase the E-Book/Audiobook
✅ Receive a Download Link From
❤️ Send to any Device and Enjoy!
This bundle contains Rory's Rose, Brandon's Bliss and Liam's Lily, books 13, 14 and 15 of the Heroes for Hire series.

Book 13: Rory's Rose
Rory is an animal lover. In his mind, any veterinarian who does as much pro bono work as Louise, the local vet, deserves his help when she gets into trouble...

Louise works long hours at her own veterinarian clinic. When she receives an unexpected delivery one day, complete with a dead deliveryman, a domino-series of events puts her and her clinic full of precious animals in danger.

Rory is the first to volunteer to keep her safe. Professional reasons quickly become personal. Louise is everything he's ever wanted and never expected to find in a single woman. He's looking forward to a future together, and the only way to ensure that is to stop whatever's endangering her and her animals.

Unfortunately, the killer isn't leaving a witness to his crimes. At first, Rory and the team at Legendary Securities make headway in discovering what's going on, but the tables turn in an instant and, for the first time since he joined the team, Rory's vision of a satisfactory resolution--and happily-ever-after--may not be in the cards.

Book 14: Brandon's Bliss
Brandon, the newest member of Levi's team at Legendary Securities, heads to Africa. Bullard purchased a new holding there, but, shortly after arriving, went missing.

Kasha has worked for Bullard for five years. She's familiar with most of those who work for Legendary as well. Brandon proves his worth almost immediately, planning her boss's rescue and staying right by her side in the days that follow while they determine what imbroglio Bullard's stepped into. Accident or a deal gone horribly wrong, it seems Bullard was running guns and now his newest holding is under attack.

Their emotions, heightened by danger, run hot as Brandon positions himself instinctively at Kasha's side--which is exactly where he hopes to be permanently if they can just find a way out of this rapidly escalating mess.

Book 15: Liam's Lily
When former Navy SEAL Liam O'Brian joins Legendary Securities, he looks forward to being shipped somewhere exciting for his first mission with Levi and his crew. Instead, he learns exotic and enormous aren't exactly synonymous when he stumbles upon the oversized pachyderms inhabiting his new backyard. Still, conflicts are universal and Liam's troubles are only just beginning once he finds himself falling for a woman deeply rooted in her family's livelihood and problems.

Go-getter Lilianna Howell is a biologist who believes all problems can be reduced to minor ones if only they're nipped in the bud early enough. When her dad can no longer deal with the loss of his son and his detachment threatens the elephant reserve, Lilianna steps into a much larger role, handling the marketing and fundraising. Being close to her sister and her husband--once Lilianna's fiancé--forces her to struggle with distrust from that past experience and a growing attachment to a man who appears in her life like a dream come true.

Mammoth issues escalate as Liam and Lilianna team up to save the gentle giants, their newfound love… and their own lives.

Our ebooks and audio books are delivered to the email you buy them with, through Bookfunnel. Once you purchase the ebook or audiobook it will be sent to your email within the next hour.
You can send the ebook to your preferred reading device or app, or use the bookfunnel app. You can listen to the purchased audiobook on the bookfunnel app as well.
Our books are sent to be processed and printed within 72 hours of purchase, from there they will be shipped to you in 10-15 days depending on your location. You will get an email when the book has been shipped. it will not have a tracking number unless you pay for tracking.
We are working to get our shipping times down but currently we are a small company, and our products can take a bit longer to ship.
Thank you for your patience.
AI audio books are books turned into Audio by using conversational digital narration created by AI. We specifically use Google play book's AI technology for our AI narrated books.
They sound quiet similar to human voices.
Most of Dale's books will have both a traditionally narrated audio book done by a person, and a AI narrated audiobook done by a computer.
---