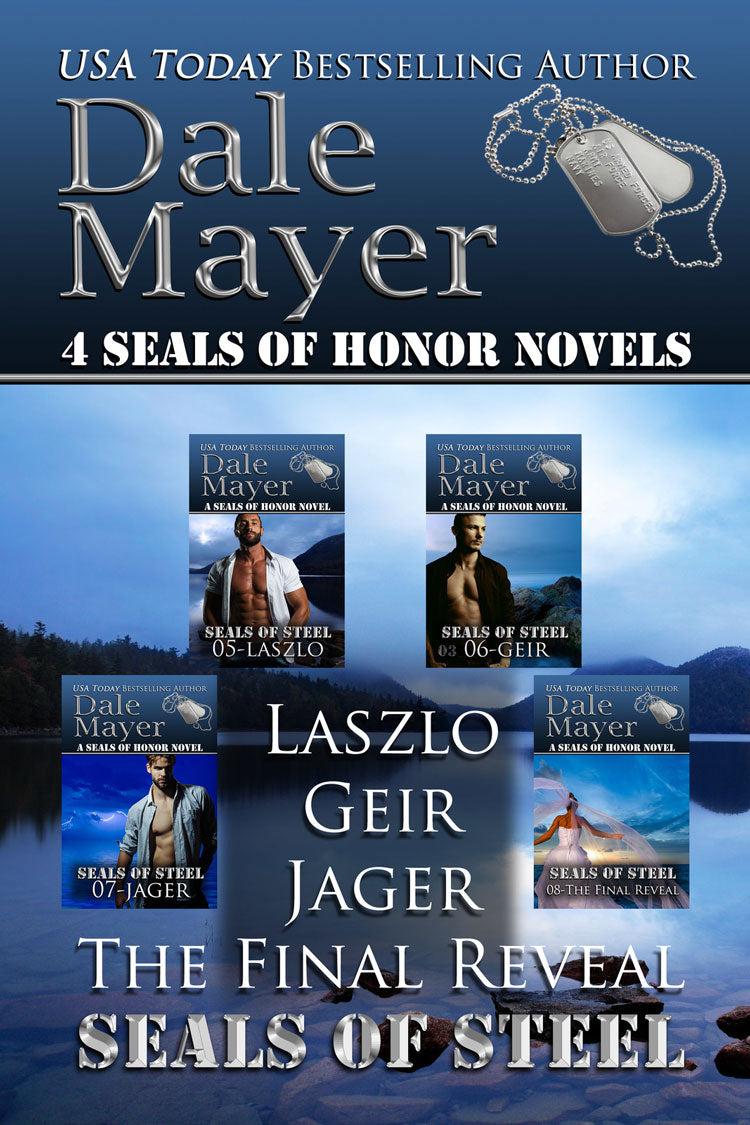 SEALs of Steel: Book Bundles 5–8
Regular price
$25.99
Sale price
$21.99
Save $4.00
/
---
🏷️ Purchase the E-Book/Audiobook
✅ Receive a Download Link From
❤️ Send to any Device and Enjoy!
Follow the adventures of Laszlo, Geir, Jager and on the finale of the series The Final Reveal.
Book 5: Laszlo
In "Laszlo," a former SEAL and his team try to uncover the truth behind a trap that nearly killed them all. They seek answers about Mouse, the youngest member of their squad who died in the incident. Meanwhile, Minx, a counselor with a troubled past, may be the only one who knows the truth about Mouse's history and maybe the killer's too.

Book 6: Geir
Geir Pavla, a former SEAL, uncovers unsettling truths about a fallen comrade. Morning Blossom runs a B&B and pursues her passion for painting. When their worlds collide, Geir's protectiveness becomes much more than they anticipated in this thrilling romance.

Book 7: Jager
Jager Hannover, a former SEAL, is on a hunt for answers about his team-mate's death and his parents' tragic accident in Vail, Colorado. Allison Monroe, a police officer, gets caught up in his investigation of a dangerous killer. The attraction between them is undeniable, but it's a race against time as they follow the killer to Santa Fe.

Book 8: The Final Reveal
In this novella, the SEALs of Steel series comes to a close as Badger Horley and his team finally uncover the truth behind a devastating set-up. Badger's health remains precarious, and he struggles with commitment issues, leaving his love, Kat, uncertain about their future. Will they take the leap of faith to tie the knot and start a family?
Our ebooks and audio books are delivered to the email you buy them with, through Bookfunnel. Once you purchase the ebook or audiobook it will be sent to your email within the next hour.
You can send the ebook to your preferred reading device or app, or use the bookfunnel app. You can listen to the purchased audiobook on the bookfunnel app as well.
Our books are sent to be processed and printed within 72 hours of purchase, from there they will be shipped to you in 10-15 days depending on your location. You will get an email when the book has been shipped. it will not have a tracking number unless you pay for tracking.
We are working to get our shipping times down but currently we are a small company, and our products can take a bit longer to ship.
Thank you for your patience.
AI audio books are books turned into Audio by using conversational digital narration created by AI. We specifically use Google play book's AI technology for our AI narrated books.
They sound quiet similar to human voices.
Most of Dale's books will have both a traditionally narrated audio book done by a person, and a AI narrated audiobook done by a computer.
---