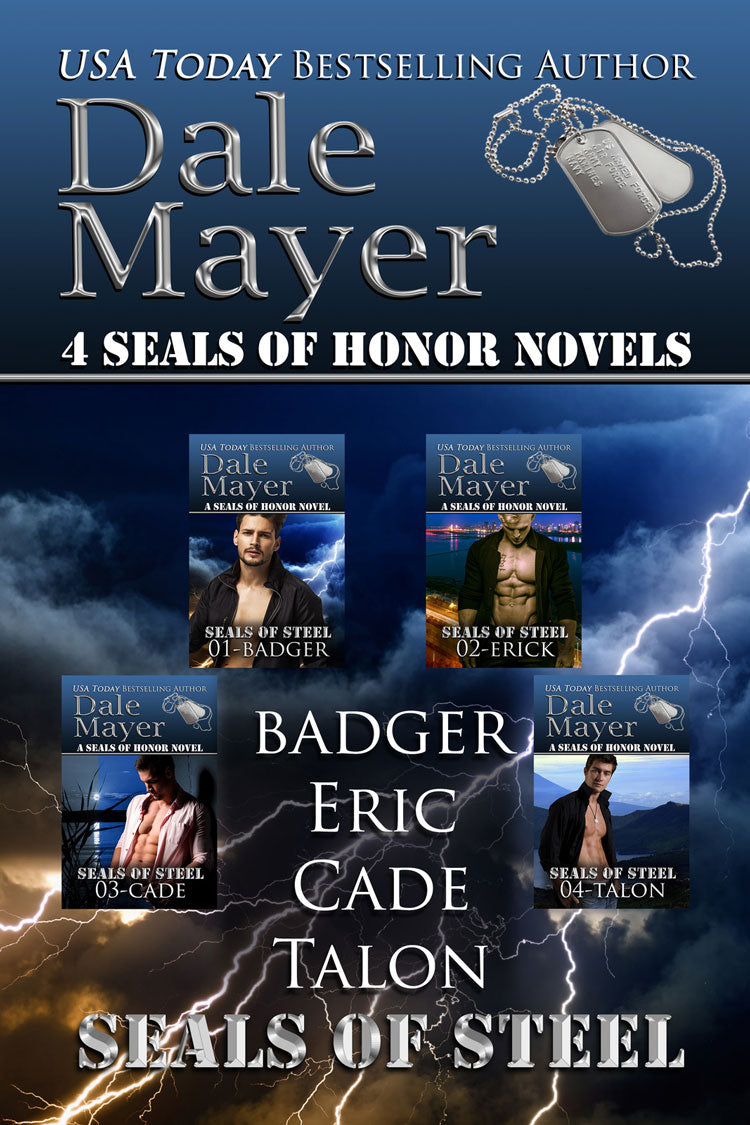 SEALs of Steel: Book Bundles 1–4
Regular price
$27.99
Sale price
$23.99
Save $4.00
/
---
🏷️ Purchase the E-Book/Audiobook
✅ Receive a Download Link From
❤️ Send to any Device and Enjoy!
Book 1-4 of the SEALs of Steel series follows the lives of former Navy SEALs who have retired from active duty and are now adjusting to civilian life. Each book focuses on a different member of the team as they navigate their personal demons, the challenges of civilian life, and the unexpected romances that come their way.
Book 1: Badger
Badger introduces us to Badger Horley, the team leader of the SEALs. Badger is haunted by a mission gone wrong that resulted in the death of his entire team except for him. He's struggling to come to terms with his PTSD while running his security company and finds himself falling for a woman who needs his protection.
Book 2: Erick
Eric follows Erick "Ghost" Singleton, the team sniper. Erick is struggling to adjust to civilian life and is haunted by the ghosts of his past. When a beautiful doctor enters his life, he finds himself opening up to her in ways he never thought possible.
Book 3: Cade
Cade focuses on Cade Terence, the team's explosives expert. Cade is a loner who prefers to keep his distance from people, but when he meets a single mom and her son, he finds himself drawn to them. As he starts to let them into his life, he realizes that he might be ready to let go of the past and start building a future.
Book 4: Talon
Talon introduces us to Talon Valdez, the team's computer expert. Talon is hiding a secret past and has built walls around himself to keep people out. When he meets a journalist who is investigating his past, he finds himself falling for her and realizing that he can't keep his secrets hidden forever.
Our ebooks and audio books are delivered to the email you buy them with, through Bookfunnel. Once you purchase the ebook or audiobook it will be sent to your email within the next hour.
You can send the ebook to your preferred reading device or app, or use the bookfunnel app. You can listen to the purchased audiobook on the bookfunnel app as well.
Our books are sent to be processed and printed within 72 hours of purchase, from there they will be shipped to you in 10-15 days depending on your location. You will get an email when the book has been shipped. it will not have a tracking number unless you pay for tracking.
We are working to get our shipping times down but currently we are a small company, and our products can take a bit longer to ship.
Thank you for your patience.
AI audio books are books turned into Audio by using conversational digital narration created by AI. We specifically use Google play book's AI technology for our AI narrated books.
They sound quiet similar to human voices.
Most of Dale's books will have both a traditionally narrated audio book done by a person, and a AI narrated audiobook done by a computer.
---