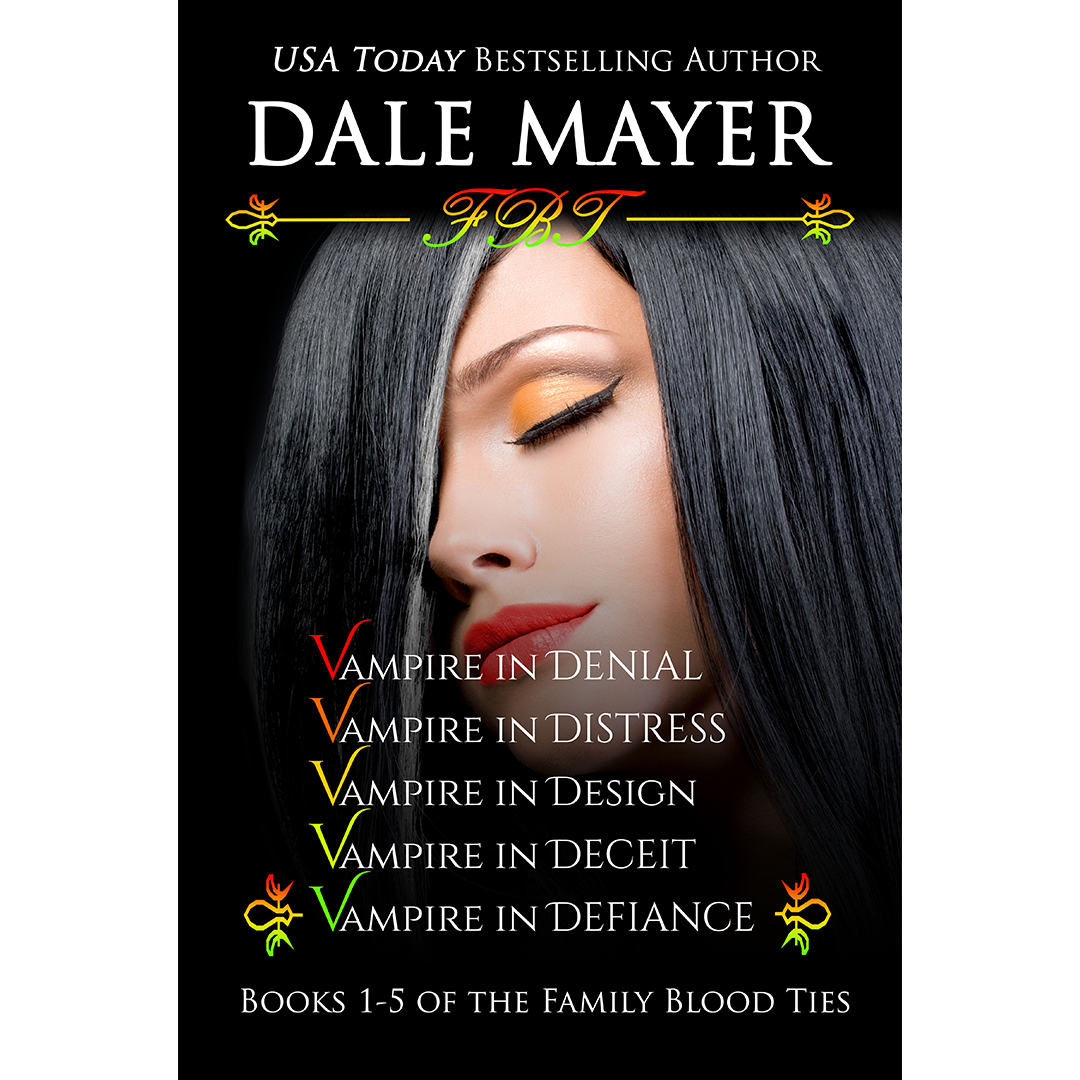 Family Blood Ties Book Bundles 1-5
---
🏷️ Purchase the E-Book/Audiobook
✅ Receive a Download Link From
❤️ Send to any Device and Enjoy!
Sixteen-year-old Tessa comes from a family of ancient vampires with powerful abilities, but she doesn't seem to have inherited anything exceptional. An Old World vampire faction is developing underground blood farms, where humans are placed in permanent stasis so the vamps will have a steady feeding source. To right this horrible wrong, Tessa must tap into her own dormant genetic abilities…or die trying.

Book 1: Vampire in Denial

When fitting in and discovering her own unique abilities doesn't seem possible, sixteen-year-old vampire Tessa embraces life as a human teenager. But her dreams of belonging turn into a nightmare when a clan of vicious vampires attack the movie theatre she's having her first date in, and Jared falls into their hands.

Blood doesn't just make Tessa who she is but what she is. Can her blood also define what she becomes?

Book 2: Vampire in Distress

Sixteen-year-old Tessa is at the center of a war started by a violent faction of vampires who want a steady supply of humans to feed from.

Eighteen-year-old flyer vampire Cody's only thought is getting his best friend's kid sister back after she and her human boyfriend Jared are kidnapped.

A war between humans and good and bad vampires is on the precipice of breaking loose--a war that promises to show them no mercy.

Book 3: Vampire in Design

Teenage Tessa finds herself locked in a lab by those who want to tap into the latent genetic abilities in her vampire blood.

Human Jared is free of the blood farm he miraculously escaped from, but he can't stop thinking about those still trapped there. Discovering a deadly secret leaves him no choice other than to return to the hellish prison he narrowly broke free of--and surely never will again.

Book 4: Vampire in Deceit

Teenage vampire Tessa wages war against her own kind in order to protect those she loves…

Even at the risk of endangering his own life, human Jared refuses to leave family and friends to their fate at the blood farm a violent faction of vampires is developing. He has allies fighting alongside him. But are they who he thinks they are, or will trusting them prove to be the worst mistake he's ever made?

Book 5: Vampire in Defiance

Moltere's Mountain is on the verge of collapse with teenage vampire Tessa, her friends and family still inside. Human teenager Jared has led an army into the mountain to help him against Old World vampires intent on enslaving the human race as a feeding source. But the allies he's enlisted view the annihilation of all vampires--not just the bad ones--as the only recourse to put an end to the war.
Our ebooks and audio books are delivered to the email you buy them with, through Bookfunnel. Once you purchase the ebook or audiobook it will be sent to your email within the next hour.
You can send the ebook to your preferred reading device or app, or use the bookfunnel app. You can listen to the purchased audiobook on the bookfunnel app as well.
Our books are sent to be processed and printed within 72 hours of purchase, from there they will be shipped to you in 10-15 days depending on your location. You will get an email when the book has been shipped. it will not have a tracking number unless you pay for tracking.
We are working to get our shipping times down but currently we are a small company, and our products can take a bit longer to ship.
Thank you for your patience.
AI audio books are books turned into Audio by using conversational digital narration created by AI. We specifically use Google play book's AI technology for our AI narrated books.
They sound quiet similar to human voices.
Most of Dale's books will have both a traditionally narrated audio book done by a person, and a AI narrated audiobook done by a computer.
---